COMRADES /
KUNDAI ANNAH MHARADZE
Kundai Annah Mharadze participates in the postcard project
wish you were here
which has been exhibited at Public Pool (Hamtramck), Delta Gallery (Harare), Elaine L. Jacob Gallery (W.S.U. Detroit), National Gallery of Zimbabwe (Mutare),
DAASGallery
(U.M. Ann Arbor).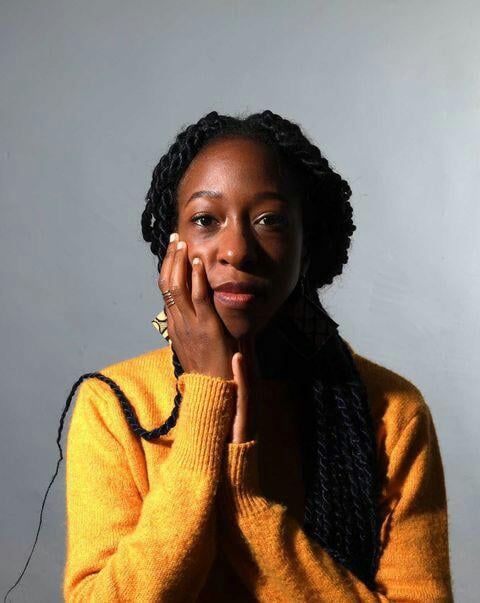 Born August 23 1992, Kundai Annah Mharadze was introduced to paint while studying at Hillcrest College, in Mutare, Zimbabwe. Growing up in an artisan family Kundai began drawing ever since she could hold a pencil. In her childhood, she would stay behind drawing and coloring classroom charts while other children played outside. In 2010, at the age of 18, while studying at Hillcrest College, Kundai was discovered by a teacher after being noticed, sitting by a corner in an art studio, drawing a portrait. The teacher then introduced paint and groomed her into portrait painting. Even though she had no learning experience from before, the teacher insisted she write an art exam. And to her surprise, did pretty well. The more she practiced, the more she gained experience and interest. From this point on, Kundai tried all sorts of medium, acrylic, oil paint, charcoal, chalk pastel, collage, etc.
In her 4 years of patiently waiting to go to university, Kundai held her first art exhibition in 2015, with the theme, 'Broken'. And was awarded artist of the year. Thereafter, more solo exhibitions and art workshops followed. In 2016 she had a joint exhibition in collaboration with very talented young artists, with the theme, 'Awesome'. That same year, finally went to university in Cyprus, where she grew to discover herself as an artist. Under the influence of Christian family life, from this period on, her paintings changed from portrait to abstract.
Kundai's inspiration comes from her parents, who are both creative artists and designers but most importantly inspiration comes from God, who has helped find her identity as an artist.

In 2019, she then transferred to (ARUCAD) Arkin University of Creative Arts and Design where she is currently studying Plastic Arts. As she says,"It is better to have a gift with knowledge than to have a gift without any knowledge of it".